Hyperuricemia (HUA) is a common purine metabolic disorder caused by excessive synthesis or decreased excretion of uric acid. Gout is precipitated by hyperuricemia, which is also linked to cardiovascular diseases and chronic renal failure. Many factors, including genetics, gender, age, lifestyle, and diet, contribute to the development of hyperuricemia. As research on HUA has progressed, developing adequate animal models of hyperuricemia has become a pressing issue for elucidating its pathophysiology and developing therapeutic medicines.
GemPharmatech constructed the UOX-KO mouse model by knocking out exons 2-4 of the murine Uox gene on a C57BL/6JGpt background. The abnormal accumulation of uric acid following the loss of UOX expression leads to the development of hyperuricemia in mice, making this an ideal model for the screening and efficacy evaluation of drugs for the treatment of hyperuricemia.
UOX mouse phenotype and efficacy validation
1. Male and female mice both spontaneously develop hyperuricemia, and females showed lower mean uric acid levels than males but better individual homogeneity. Allopurinol effectively reduced the hyperuricemia caused by UOX deletion in mice.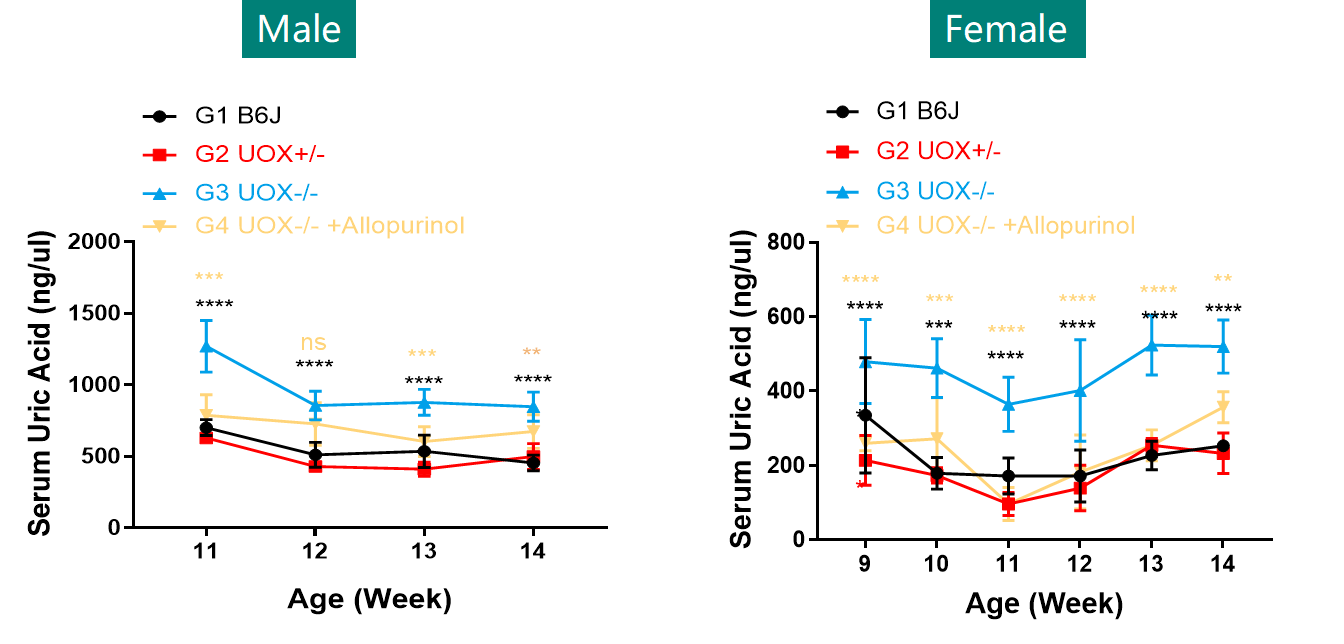 2. The elevated levels of creatinine and urea nitrogen in male and female UOX-KO mice suggested the development of renal damage, which was more severe in males than in females. In UOX-KO mice, allopurinol (G4) failed to improve renal impairment.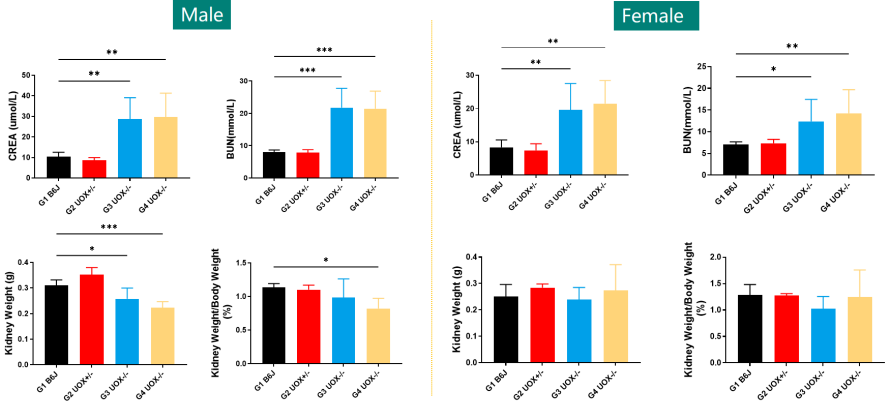 3. Histopathology (HE & Masson) of the kidneys of UOX-KO mice revealed interstitial fibrous tissue hyperplasia with inflammatory cell infiltration, glomerular atrophy with thylakoid tissue hyperplasia, thickened vessel walls, dilated renal tubules forming cysts, and red-stained material exuding from the tubule lumen. Allopurinol (G4 group) did not alleviate the kidney lesions in UOX-KO mice.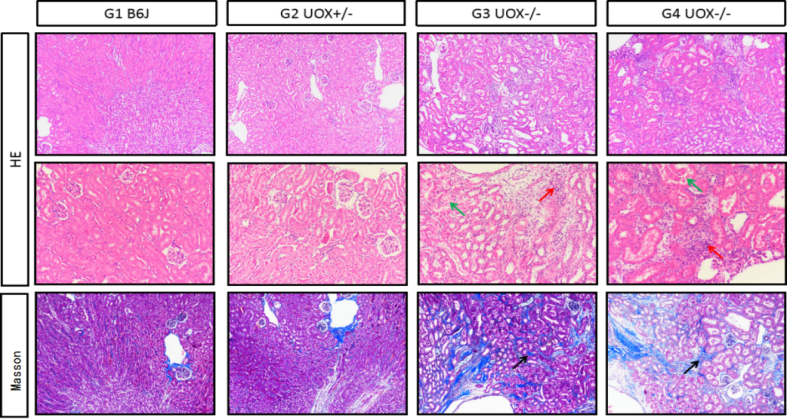 | Strain No. | Strain Name | Strain Type | Description |
| --- | --- | --- | --- |
| T011801 | Uox-KO | Cas9-KO | This spontaneous hyperuricemia model exhibits significantly high uric acid concentration and can be used to study hyperuricemia, uric acid nephropathy, and the efficacy of related therapeutic medications.. |