Psoriasis is an immune-mediated inflammatory skin disease, and its pathogenesis is related to inflammatory cell infiltration and inflammatory factors. Imiquimod (IMQ)-induced mouse model is the most commonly used psoriasis model.
Modeling strategy
Validation data
1. Phenotypic data of IMQ-induced psoriasis mouse models (BALB/c)
Skin damage, inflammation, thickening and peeling occurred on the back of IMQ-induced mice, and the disease scores of the IMQ groups were significantly higher than that of the control group. Tissue sections show epidermal thickening and neutrophil infiltration in IMQ-induced mice.

2. Efficacy Results of Dexamethasone and Secukinumab in IMQ-induced Psoriasis Mice (BALB/c-hIL17A)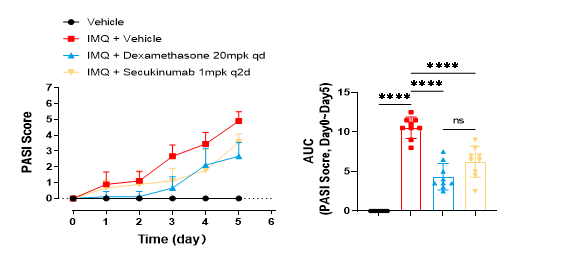 The disease scores of mice treated with Dexamethasone and Secukinumab decreased. The results demonstrate that IMQ-induced model can be used for preclinical studies and efficacy evaluation of psoriasis medications.